AddMotor MOTAN M-450 Fat Tire Fork Full Suspension Electric Bike
Save $200
• Range:
* 40-50 miles with PAS 1
• Top Speed:
25 mph
• Motor Assistance:
Pedal Assist, Twist Throttle with on/off switch
• Weight:
57 lbs
• Warranty:
Technologies: 2 Years; Motor and Battery: 1 Year
---
---
Ask a Question
AddMotor MOTAN M-450 Fat Tire Fork Full Suspension Electric Bike 48V 500W
Motan M-450 is designed on the basis of M-550, which in response to the stand-over height of the frame.It allows many older people with some physical issues to continue riding in challenging geographic conditions and they re-discovered a bicycle's ability to promote freedom and fun.The upright riding position and huge four-inch tires make it the most comfortable bike you'll ever ride! It is also very nimble and easy to ride.
LOW RISE, EASY TO MOUNT, STEP THROUGH FRAME DESIGN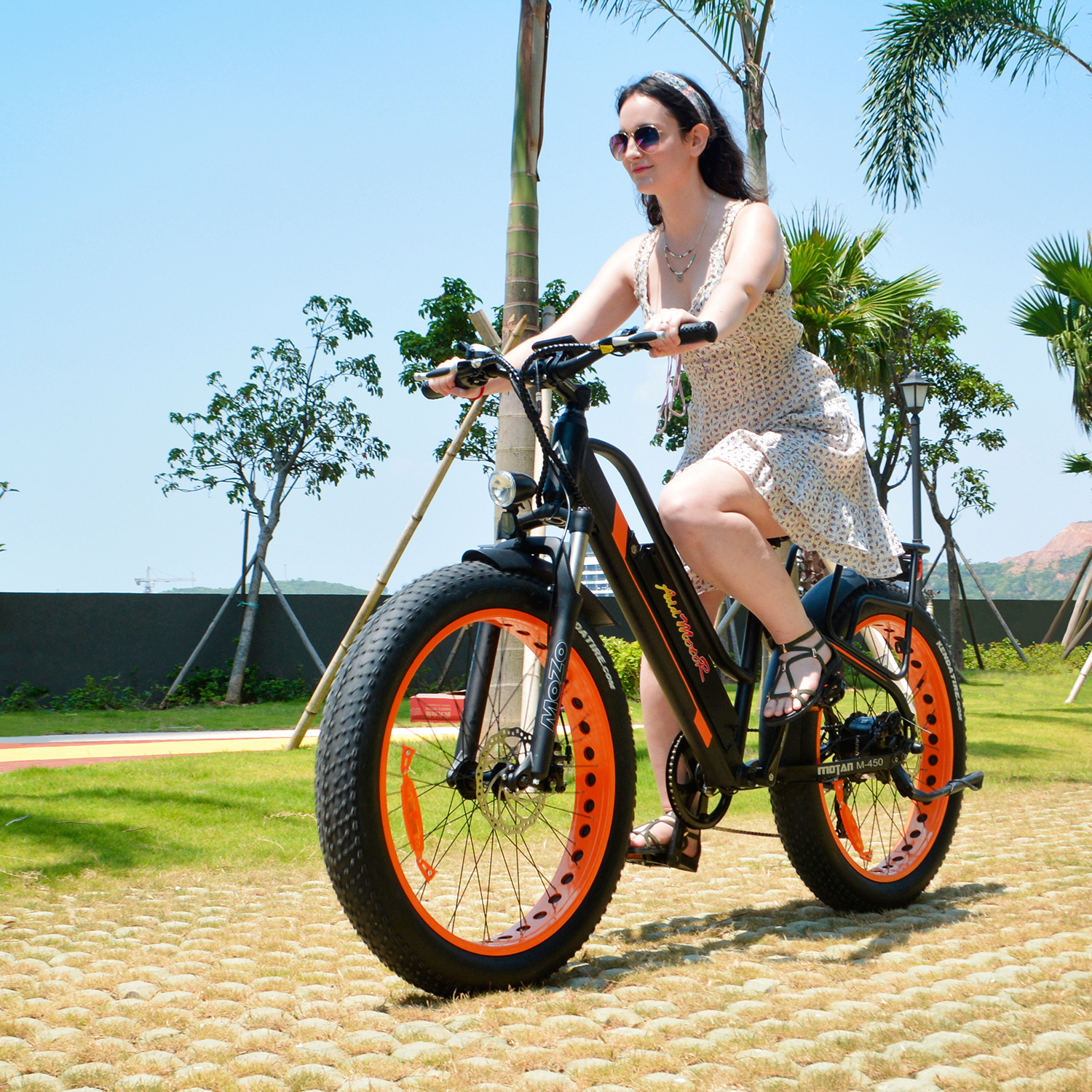 The M450's strong, compact frame is designed with the female rider in mind and features a low rise top tube for easy mounting and dismounting.  Also made it more challenging for some riders, including short women, the elderly or those who may experience issues with balance, to suit a wider range of riders.
FULL DUAL SUSPENSION
MOTAN M-450 features a dual-suspension, MOZO 100mm travel front fork suspension, and built-in seat post suspension, offering a super comfort and smooth biking journey. The adjustable saddle and Promax suspension seat post allow you to adjust the position.
POWERFUL 48V 500W BRUSHLESS MOTOR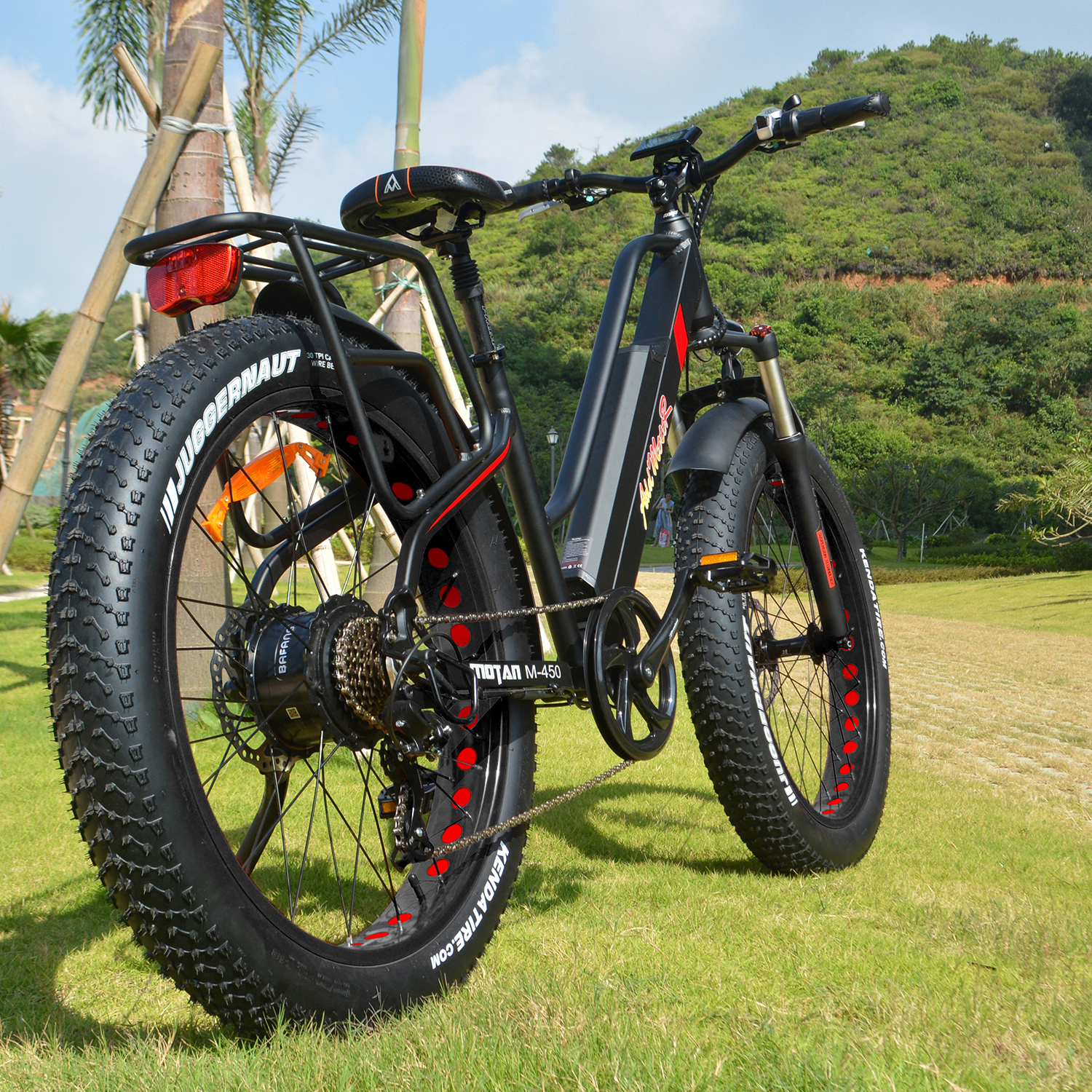 With its hub mounted 500-watt brushless motor and 48-volt lithium ion Samsung battery, the MOTAN M-450 has the power and range to accompany you on adventures of almost any length and duration on a single 4-hour charge. With 500 watts of power, you can reach the max speed 25 miles per hour move using the electric motor to assist as you pedal. 
USE ELECTRIC POWER OR PEDAL ASSIST OR MUSCLE POWER TO MOVE ALONG
The M-450 offers three modes of muscle power, electrical pedal assist or full electrical operation to allow you to cruise effortlessly or help you get to a higher top speed, or even climb mountain hills more easily.
STURDY IRON REAR RACK
The MOTAN M-450 electric bike comes with a sturdy and detachable rear rack, to man or carries goods conveniently - all depending on your own need.
RANGE IS 50 MILES OR MORE ON A SINGLE CHARGE
With the large capacity 10.4AH lithium battery, the Addmotor's M-450 has a super strong endurance which offers a maximum range of 50 miles on constant pedal assist mode or even more using it intermittently.
STURDY STEEL FRAME AND FORK PLATFORM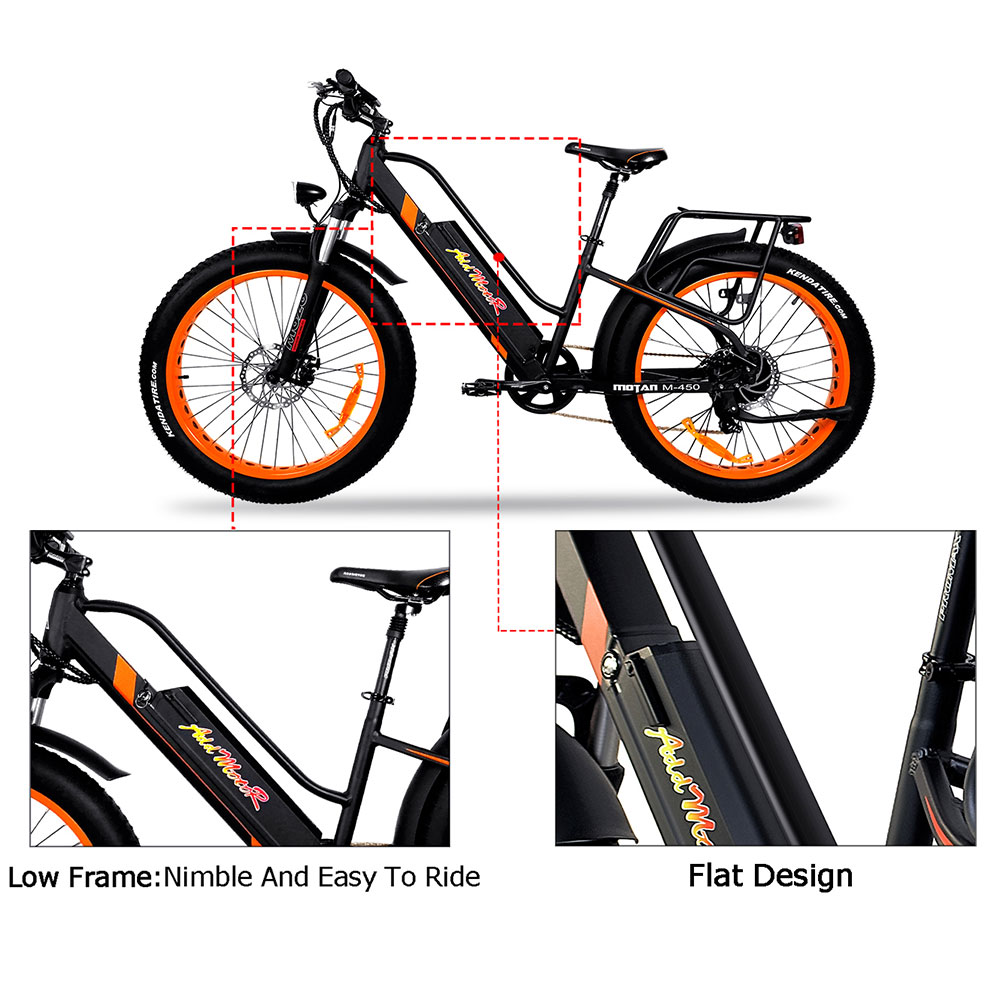 The bike starts with a sturdy steel frame and fork platform. Low-rise style handlebars provide sure handling. Front and rear hand-activated linear-pull brakes slow things down. And those big, big tires roll over practically anything. It feels like you're riding on a magic carpet. Plus it just looks so cool! The noticeable chief difference in the new Motan M-450 is the style of the 6061 aluminum-alloy frame. The double suspension (including front fork shock absorbers and built-in suspension to the seat post) and 4" wide Fat Tires offer a superior level of comfort, ensuring that riders will coast over any bumps they may encounter in the road.
DESIGNED FOR THE MODERN COMMUTERS
This bike was designed for the modern commuter. It comes with a 5-inch LCD display which shows the parameter including speed, battery status, distance, biking mode, and also equipped with a USB outlet to charge your electronic devices, so you always have energy wherever you go.
Specifications
ELECTRIC SYSTEM

Battery

48V*10.4AH SAMSUNG Cell Lithium Battery

Motor

Bafang 48V*500W High-speed Rear Hub Brushless Motor

Display

Addmotor 5 Inch LCD Display With USB Port

Distance

Single Charge is 40-50 Miles While Using The Level One Assist

Charger

2.5A ST AC 100V-240V UL Charger, US Standard DC Smart Charger (If you want EUR or UK Charger, please leave us a message or email us; otherwise, we will send you a US standard by default)

Throttle Type

Variable Speed Control With 1/2 Twist Throttle

ACCESSORIES DETAILS

Rear Gears

TEKTRO Mechanical Brake EL555-TR/EL550-RS

Frame

6061 Aluminium-Alloy Welding Frame

Front Fork

MOZO Suspension Fork With Lockout

Brake Levers

TEKTRO  EL555-RT/EL550-RS Disc Brake Set

Brakes

TEKTRO Mechanical MD300 180mm F/R Alloy Disc Brake

Handlebar

Aluminum Alloy Handlebar

Seat Post

PROMAX (Quick Release 30cm)

Saddle

Addmotor Adjustable Saddle

Pedals

Wellgo Aluminum Black Pedal

Stem

Aluminum Alloy Stem

Chain

Rust Resistant Chain

Freewheel

Shimano Pro Freewheel 7 Speeds

Tire

Kenda 30tpi Fat Tire 26" x 4.0"

OTHER DETAILS
Color

Black/Orange

Charging time
3-4 Hours. (Depending on the Battery Status)

Appropriate Height

5'5"-6'8"

Range

40-50 miles

Load Capacity

300 lbs.

Warranty

Technologies: 2 Years;
Motor and Battery: 1 Year Warranty. 
RETURNS AND REFUND POLICY
Addmotor allows you to return your purchased item for a period of 30 days from the date of your purchase. In order to process a return, you must email us at: april@relaxandridebikes.com. You are solely responsible for returning the item in its original packaging to Addmotor to the mutually agreeable return location determined when you process the return.
You are solely responsible for all shipping and handling charges and you will be charged a 10% restocking fee upon Addmotor's receipt of the item. Addmotor will not issue a credit until it is in possession of the returned item.
WHY BUY FROM US?
Relax and Ride Bikes was created to serve people who believe that biking is more than just an activity. Relax and Ride Bikes is a place where bikers who are passionate about biking can come to shop for the most exciting products we have to offer. We always strive to provide the best information, the best products, the best prices, the best customer service, and the best overall buying experience anywhere. This is why Relax and Ride Bikes is the #1 store for bike fanatics.
WE PUT OUR CUSTOMERS FIRST
We're a small team and truly care about your experience with us. Unlike the other "internet" companies out there that want just a simple transaction, we are here to help you every step of the way. After you place an order with us, you can expect an email from our President personally thanking you for your business.
WE LOVE THE GAME AS MUCH AS YOU DO
When you call us you get a real biker on the other line eager to help you out. Whether you are looking for a mountain bike, beach cruiser, or anything else, we truly invest ourselves in understanding our products. Most of the time, there is a good chance we have already tried them out ourselves!
WE ARE THE EXPERTS IN THE INDUSTRY
By working closely with a large number of the best brands, we are given a unique insight that you cannot find anywhere else. Our owners have taken the time to carefully select only the best brands with track records for excellent products. We hope you find our focus on providing great information and an unbiased opinion on all of our products refreshing.
More Reasons to Relax and Ride Bikes:
Price Match Guarantee

Thanks to our strategic partnerships with our brands, we are able to offer the best prices you can find anywhere or we refund the difference.

Free Shipping

All orders shipped to the lower 48 U.S. states ship FREE. 

If you wish to ship to Alaska, Hawaii or Canada give us a call or shoot us an email and we can help with that as well.

No Sales Tax

We charge ZERO sales tax on our orders. With some of our most popular products ranging past $1,000 or more, those few % can add up to some nice savings.

100% Safe & Secure Ordering

Our website uses SSL Encryption technology ensuring all sensitive payment or personal information submitted through the website is completely secure and protected.

Norton Shopping Guarantee

Includes $10,000 ID Theft Protection Coverage, $1,000 Purchase Guarantee, and $100 Lowest Price Guarantee all FREE of charge when you order with us.

Volume Discounts

 If you are looking to buy a large quantity of one item, we may be able to offer special pricing. Feel free to send an email to info@relaxandridebikes.com for a quote.

We Are An Authorized Dealer

Relax and Ride Bikes is an authorized dealer for all of the brands on our website. This means we are able to offer full manufacturer warranties on every order.

We Offer Financing

We offer the flexibility to pay for orders over $299 over time. Simply choose "Slice It. Pay over time with Klarna." at checkout.
This is why Relax and Ride Bikes is the #1 Choice of Bike Fanatics!
Lowest Price Guarantee
We strive to offer the lowest prices online for our customers. If you find another online store that offers a lower price than ours within one month of your purchase, let us know and we will refund your original payment for the difference.
To request your partial refund, e-mail us a link to the same product you bought from us on our competitor's website within one month from the date of your order.
Exceptions:
The Price Match Guarantee includes the item price, it excludes any shipping cost & sales tax.
Promotions which bring the price lower than the MAP (Minimum Advertised Price) Pricing as set forth by the manufacturer.
The website cannot be an auction site
The competitor must be an Authorized Retailer for the product.
To receive a price match refund, please e-mail us at april@relaxandridebikes.com, and send us the following details:
Your full name
Your order #
Your e-mail address
Your phone #
Name of the product you purchased
Competitor's Price
Web site address (URL) of the competitor's product offering
Lowest Price Guarantee Terms & Conditions
Competitor's product must be the identical model from an authorized U.S. dealer. Specifically, the product must have the same U.S. manufacturer's warranty, model number, contain the same components, and must be brand new (not refurbished). Competitor's product must be in stock. We reserve the right to verify another online company's product availability and price before issuing a price match or refund. We do not price-match on products listed on auction websites or member-only websites (such as sites that require a periodic membership fee). The Lowest Price Guarantee does not apply to obvious pricing errors or clearance or close-out items (since they are one-of-a-kind and priced according to their condition). The Lowest Price Guarantee applies to the cost of the item to purchase minus any charges to deliver the item, including shipping, processing, handling, taxes, and other applicable fees. The Lowest Price Guarantee applies to products offered online via e-commerce websites. It does not apply to private party sales or products sold at "brick-and-mortar" stores.
---
QUESTIONS & ANSWERS
Have a Question?
Be the first to ask a question about this.
Ask a Question
---
We Also Recommend