AddMotor HITHOT H1 Platinum Full Suspension Electric Mountain Bike
• Range:
40-50 miles with PAS 1
• Top Speed:
28 mph
• Motor Assistance:
Pedal Assist, Twist Throttle
• Weight:
60 lbs
• Warranty:
Technologies: 2 Years; Motor and Battery: 1 Year
---
---
Ask a Question
AddMotor HITHOT H1 Platinum Full Suspension Electric Mountain Bike
The HITHOT H1 Platinum (H1-P) is equipped with a rear-drive motor, named Bafang RM G360.500.DC motor, which has an inner rotor, compatible with the disc brakes, has a rated power of 500W, a reduction ratio of 1:12.8 and a maximum torque of 50 N.m, providing ideal power of vehicles. Strong and efficient, this motor, working together with a dual suspension, greatly enhances riding comfort. It performs perfectly on the road.
FEATURES
Design is for 5'6"-6'4" and it can carry adults weighing close to 280 lbs
500W Bafang inner-rotor super high-speed rear hub brushless motor to reach speeds up to 28MPH and on hills, it gives you the power to easily reach the top.
Integrated display design with a compass and its appearance looks simpler and trendy while achieving a beautiful and harmonious vision
48V 11.6AH Lithium battery empowers you getting any up long and steep hills.
Hydraulic Disc Brake levers and TEKTRO HD-E500 Front 203mm & Rear 180mm Alloy Hydraulic Disc Brake that are more powerful, stable, fast and fee good - easy to use than mechanical disc brakes.
HIGH-END FASHION STREAMLINE FRAME DESIGN
The HITHOT H1 Platinum features an integrated streamlined bike frame that makes the bike looks so stylish and sleek. The durable streamlined design to reduce wind resistance and strengthen bike structure. The bike is rated to carry weight up to 270lbs, and it is built to withstand off-road pressures.



LARGE POWER MOTOR AND LITHIUM BATTERY
With its inner rotor rear hub-mounted 500-watt brushless motor and 48 volts 11.6Ah lithium-ion Panasonic battery, the HITHOT H1 platinum has the power and range to accompany you on adventures of almost any length and duration on a single 4-hour charge, charging time depends on the battery status. You will never worry about the endurance of the bike like before.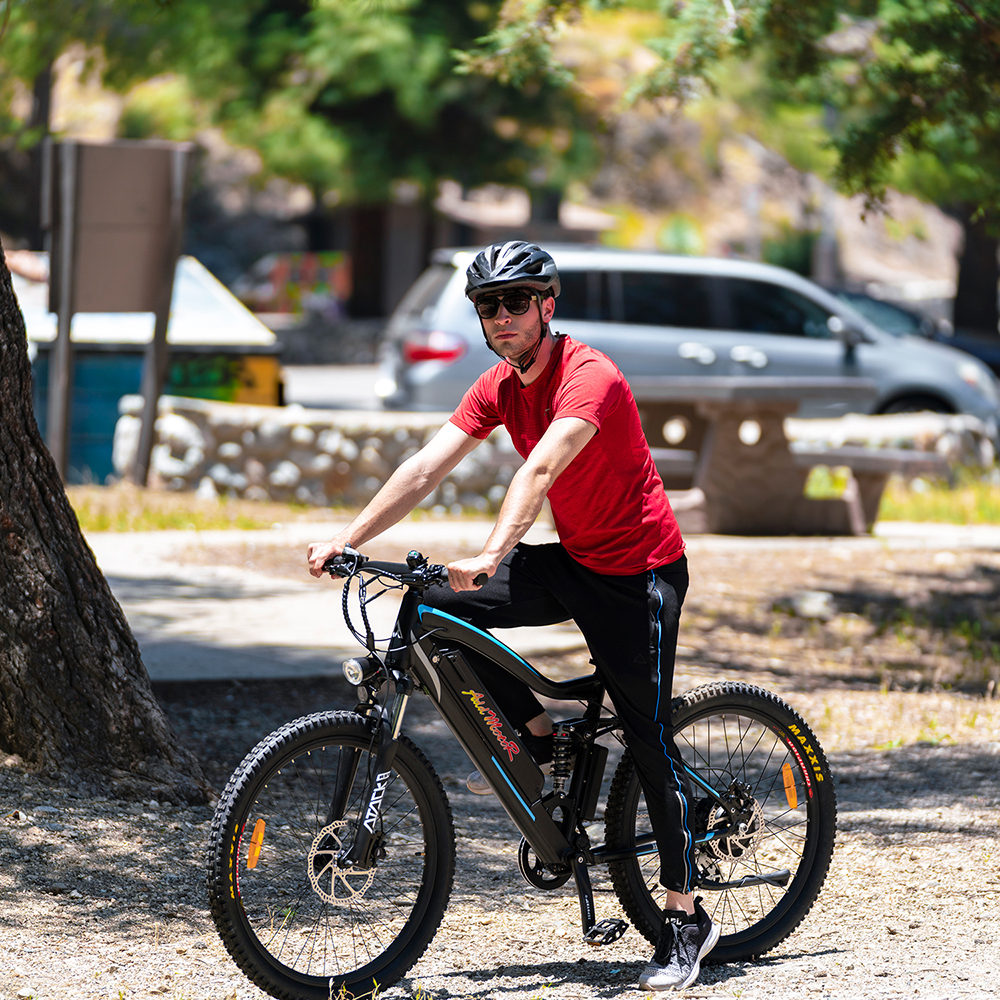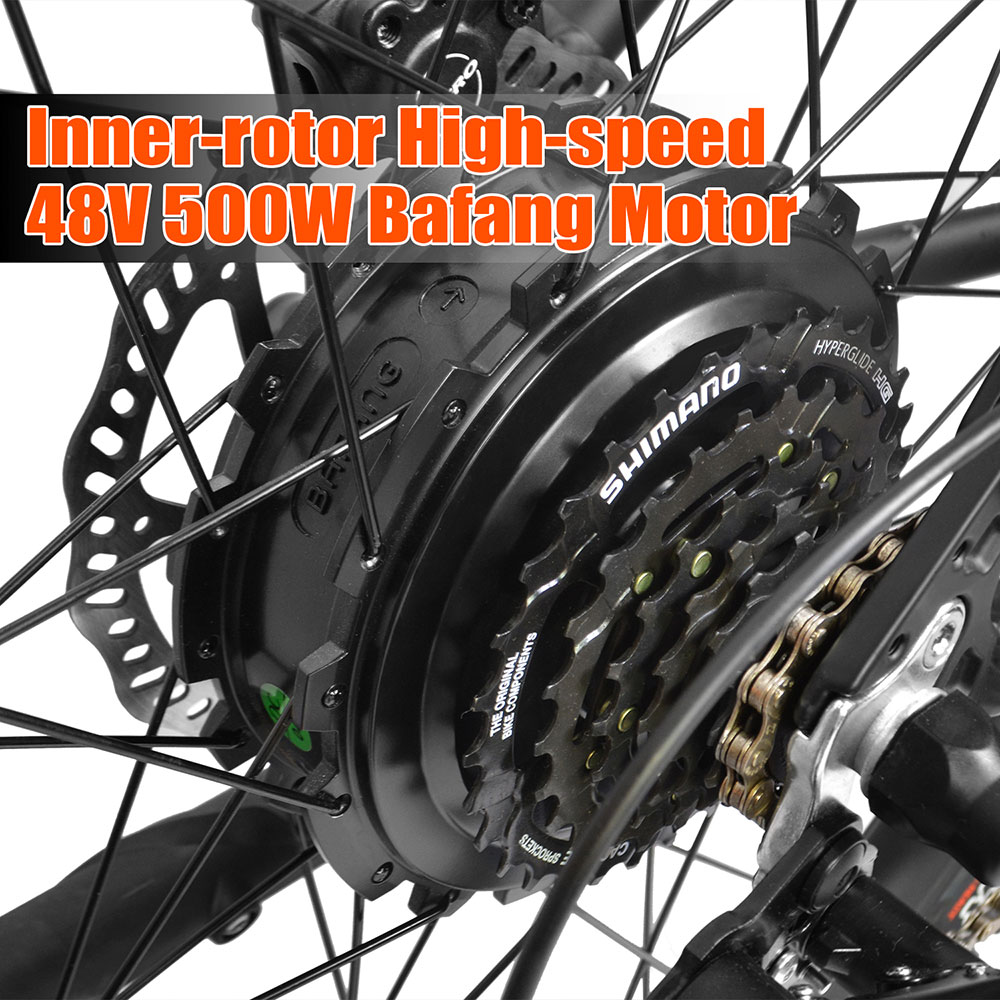 INTEGRATED WATERPROOF SCREEN DISPLAY
Different from other Addmotor e-bikes - HITHOT H1 PLATINUM is equipped with an advanced waterproof integrated screen display with a compass mounting in the front handlebar, with a compass that helps you to detect the status and provide you with a precise position, clearly displays the vital information you need on the trip. From the display, you can view what the current speed is, how far you have traveled, how much battery charge you have left and the pedal assist level.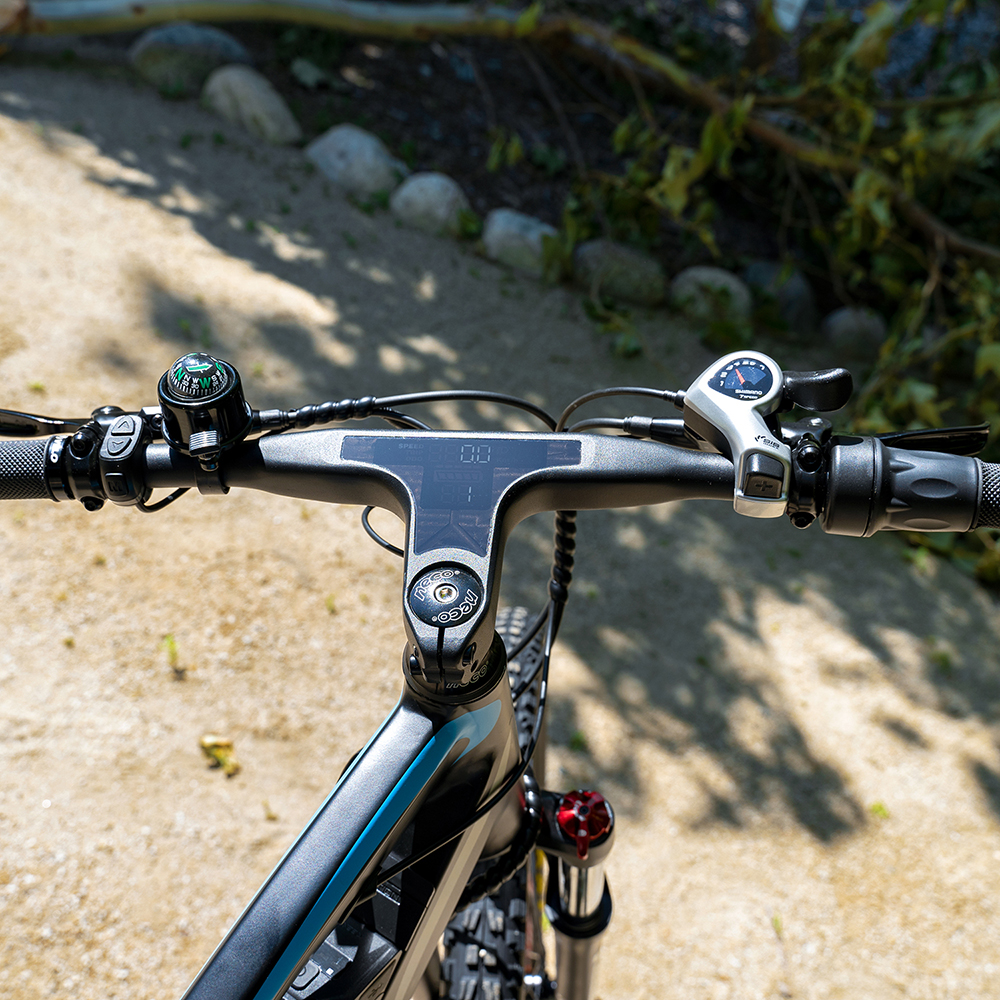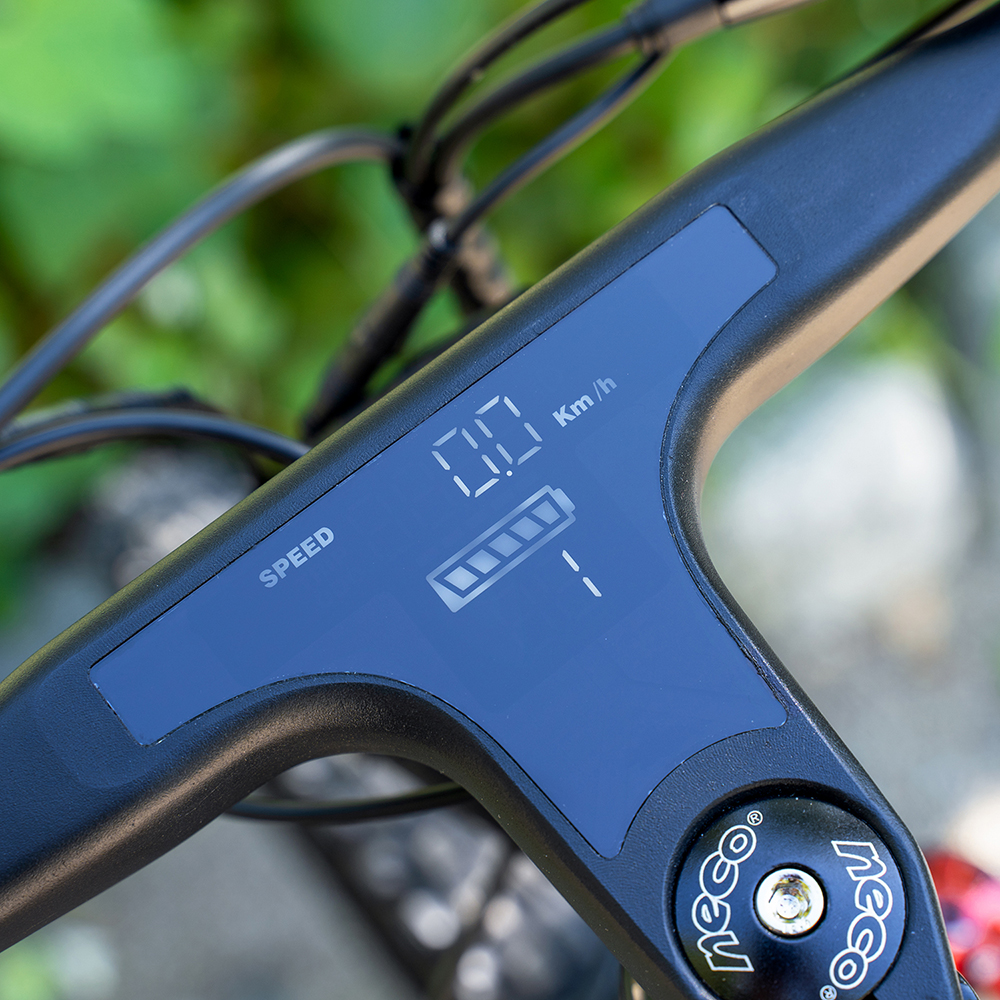 DUAL SUSPENSION WHICH GIVES YOU AN EXTRA LEVEL OF COMFORT
Featuring an Aluminum 100mm Travel Suspension front Fork with lockable shock and& Aluminum Alloy rear King shock Spring Absorber. The dual suspension promise to keep you comfortable whether on downhill trails or traveling on uneven and rough terrain bicycling.

The super high 500w motor and 7-speed Shimano drivetrain with hydraulic disc brakes make the bikes as fast and maneuverable as it is sturdy and flexible, easier to add up the speed and slow down. It can travel further, faster and across more adventurous terrain.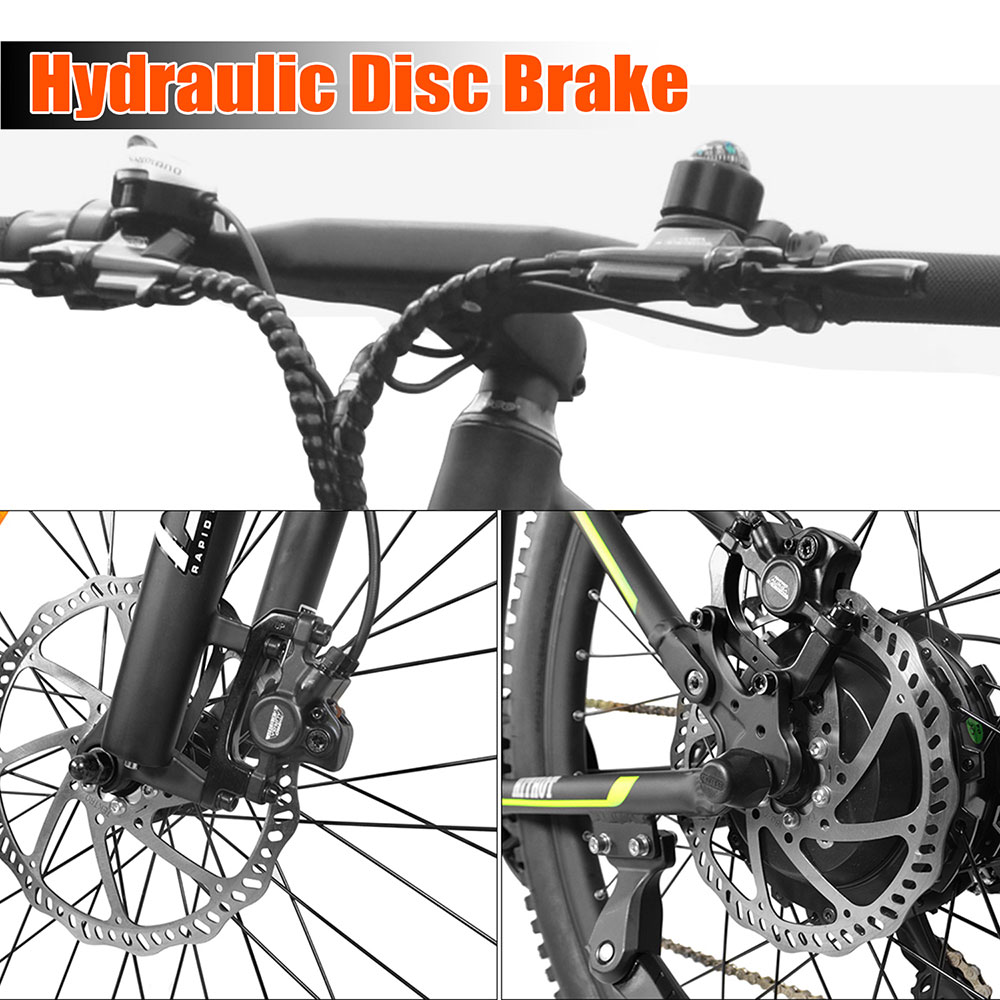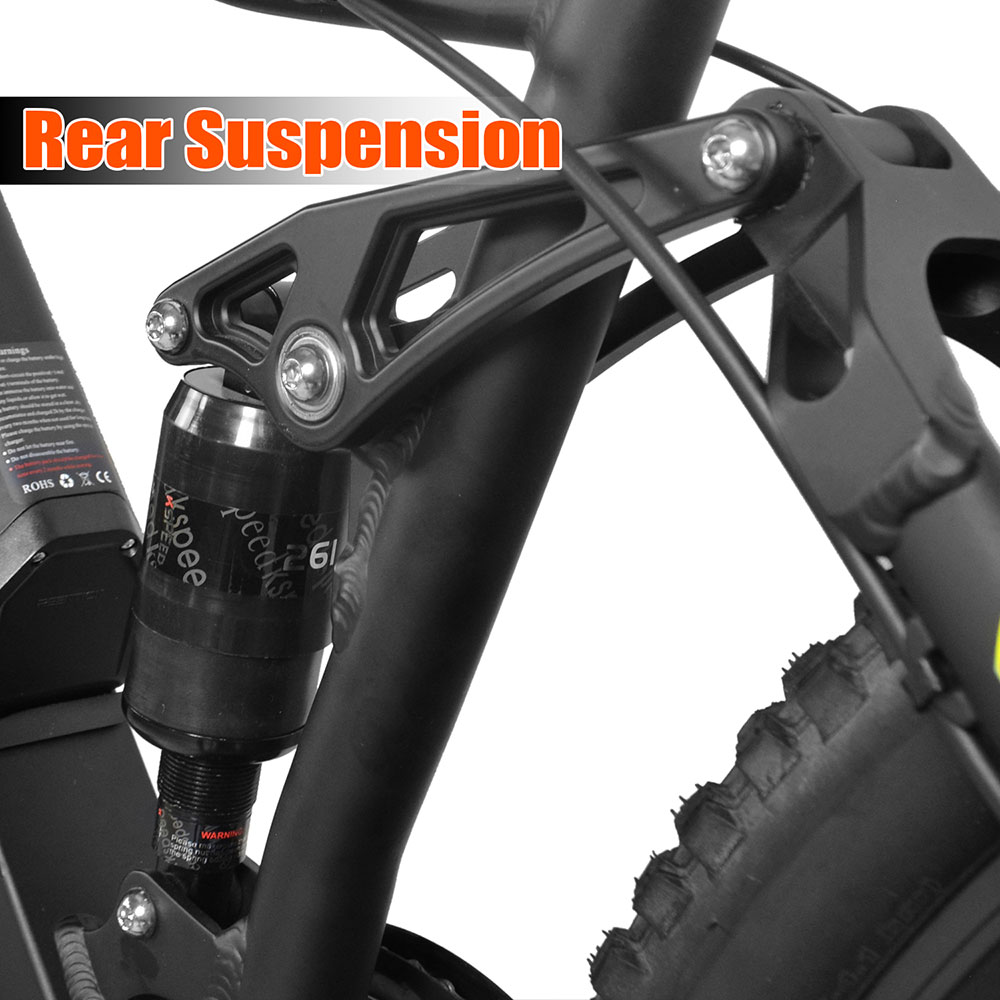 USE ELECTRIC POWER OR PEDAL ASSIST OR MUSCLE POWER TO MOVE ALONG
The H1 platinum offers three modes of muscle power, electrical pedal-assist or full electrical operation to allow you to cruise effortlessly and help you get to higher top speed, or even climb uphill more easily, also helpful in daily city commute.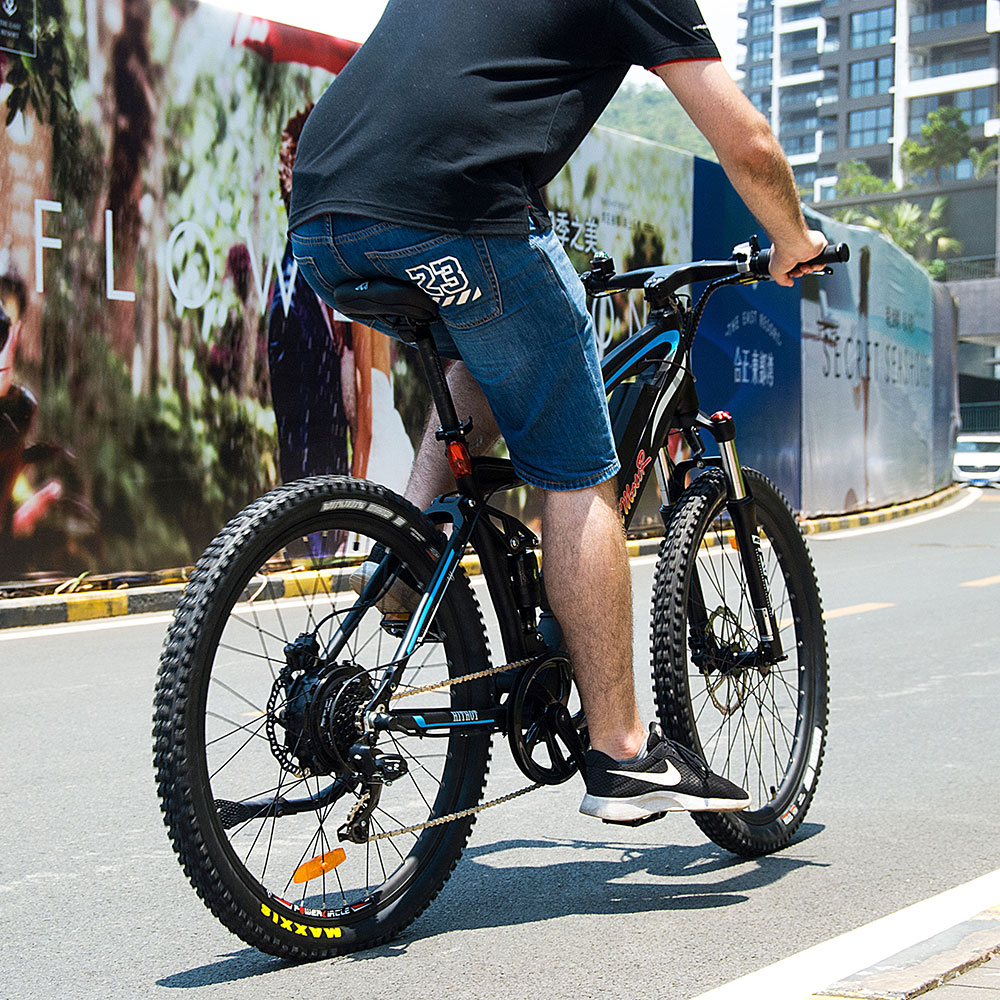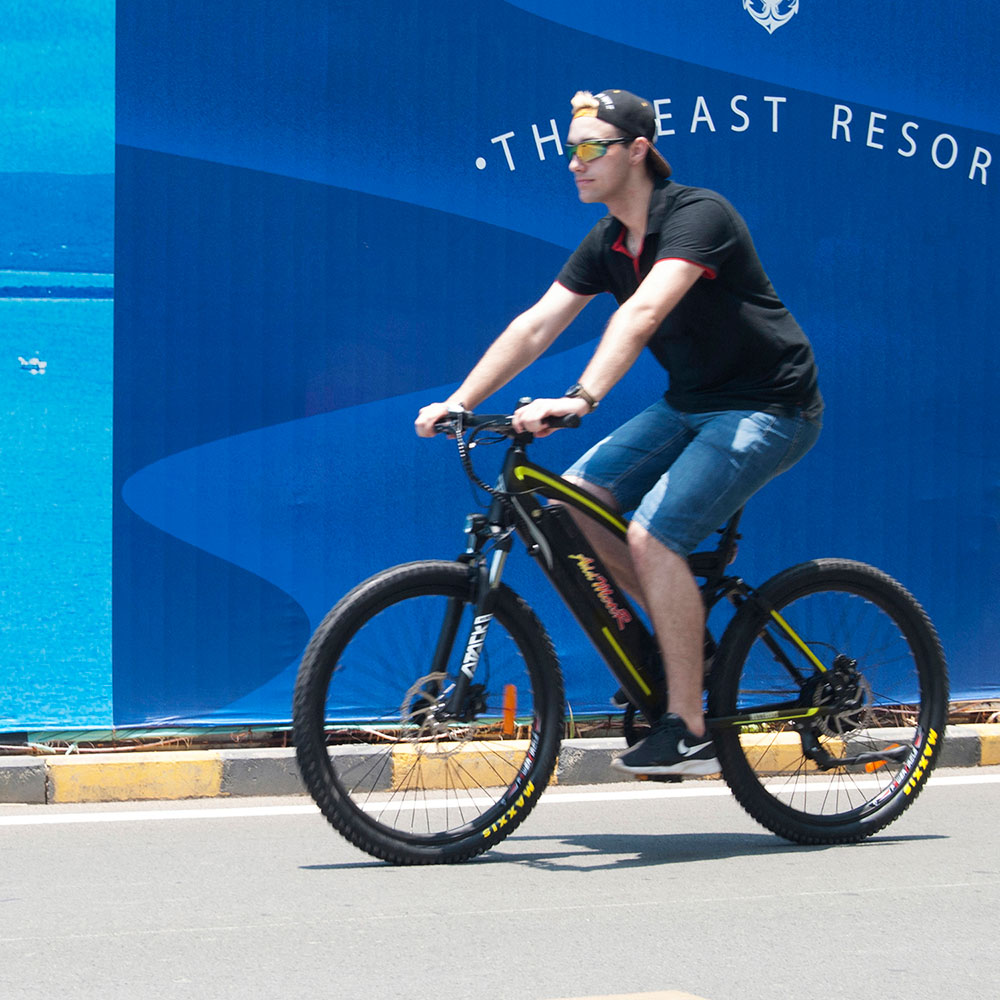 Note: The New 500 Watt Super high-speed motor will make you feel like Superman and pushes you powerful forward. Especially on climbs and hilly terrain, the extra power is welcome to support. Compared with an ordinary 500 Watt motor this one will bring you up to a hill in no time. You can actually feel the immense power which the motor gives you. This bike is an absolute blast to ride and a total lifesaver for your mountain biking and daily commute through the city.
SPECIFICATIONS
ELECTRIC SYSTEM

Battery

48V*11.6Ah Panasonic High Capacity Lithium Cell Batteries 

Motor

Bafang 48V*500W Three Generations Inner-rotor Super High-speed Rear Hub Brushless Motor

Display

Addmotor Integrated Waterproof LCD Display With Compass
Controller
Addmotor 25A Controller

Charger

2.5A ST AC 100V-240V UL, US Standard DC Smart Charger 

Throttle Type

Variable Speed Control - 1/2 Twist Throttle 

Integrated Wiring

Water-Resistant Connectors and Wiring Harness 

Headlight

Powered by Main Battery and Controlled by Display
ACCESSORIES DETAILS

Frame

Stiff and Durable 6061 Aluminium-Alloy Frame Optimized For Fun On Off-Road Trails

Front Fork

RST ATACK Hydraulic 100mm Travel Suspension Fork With Lockout
Rear Suspension
Aluminum Alloy Spring Shock Absorber K-PLUS
Brake Lever
Tektro AURIGA Hydraulic Disc Brake Lever

Chain Puller

Shimano 7 Speed / ACERA M360

Chain

KMC Rust Resistant Chain

Tires

Maxxis 27.5" X 2.35" Mountain Tires 60PSI

Freewheel

Pro Freewheel 7 Speeds
Rotors
Tektro 203mm F / 180mm R Disc 

Handle Bar

Black Aluminum Handlebar
Tailstock
Support for the installation of the quick-load tailstock
Pedals
Aluminum Black Pedals
Bike Seat
Addmotor Comfort Seat
Seat Post
Quick Release 30cm
OTHER DETAILS
Color
Blue / Yellow
Charging time
4-5 Hours. Depending On The Battery Status

Maximum Load

Electric Bicycle 270lbs

Appropriate Height

5'4"-6'4"

Range

40-50 Miles with PAS 1

N.W/G.W

60lbs / 78lbs

Warranty

Technologies: 2 Years;
Motor and Battery: 1 Year Warranty. 
RETURNS AND REFUND POLICY
Addmotor allows you to return your purchased item for a period of 30 days from the date of your purchase. In order to process a return, you must email us at: april@relaxandridebikes.com. You are solely responsible for returning the item in its original packaging to Addmotor to the mutually agreeable return location determined when you process the return.
You are solely responsible for all shipping and handling charges and you will be charged a 10% restocking fee upon Addmotor's receipt of the item. Addmotor will not issue a credit until it is in possession of the returned item.
WHY BUY FROM US?
Relax and Ride Bikes was created to serve people who believe that biking is more than just an activity. Relax and Ride Bikes is a place where bikers who are passionate about biking can come to shop for the most exciting products we have to offer. We always strive to provide the best information, the best products, the best prices, the best customer service, and the best overall buying experience anywhere. This is why Relax and Ride Bikes is the #1 store for bike fanatics.
WE PUT OUR CUSTOMERS FIRST
We're a small team and truly care about your experience with us. Unlike the other "internet" companies out there that want just a simple transaction, we are here to help you every step of the way. After you place an order with us, you can expect an email from our President personally thanking you for your business.
WE LOVE THE GAME AS MUCH AS YOU DO
When you call us you get a real biker on the other line eager to help you out. Whether you are looking for a mountain bike, beach cruiser, or anything else, we truly invest ourselves in understanding our products. Most of the time, there is a good chance we have already tried them out ourselves!
WE ARE THE EXPERTS IN THE INDUSTRY
By working closely with a large number of the best brands, we are given a unique insight that you cannot find anywhere else. Our owners have taken the time to carefully select only the best brands with track records for excellent products. We hope you find our focus on providing great information and an unbiased opinion on all of our products refreshing.
More Reasons to Relax and Ride Bikes:
Price Match Guarantee

Thanks to our strategic partnerships with our brands, we are able to offer the best prices you can find anywhere or we refund the difference.

Free Shipping

All orders shipped to the lower 48 U.S. states ship FREE. 

If you wish to ship to Alaska, Hawaii or Canada give us a call or shoot us an email and we can help with that as well.

No Sales Tax

We charge ZERO sales tax on our orders. With some of our most popular products ranging past $1,000 or more, those few % can add up to some nice savings.

100% Safe & Secure Ordering

Our website uses SSL Encryption technology ensuring all sensitive payment or personal information submitted through the website is completely secure and protected.

Norton Shopping Guarantee

Includes $10,000 ID Theft Protection Coverage, $1,000 Purchase Guarantee, and $100 Lowest Price Guarantee all FREE of charge when you order with us.

Volume Discounts

 If you are looking to buy a large quantity of one item, we may be able to offer special pricing. Feel free to send an email to info@relaxandridebikes.com for a quote.

We Are An Authorized Dealer

Relax and Ride Bikes is an authorized dealer for all of the brands on our website. This means we are able to offer full manufacturer warranties on every order.

We Offer Financing

We offer the flexibility to pay for orders over $299 over time. Simply choose "Slice It. Pay over time with Klarna." at checkout.
This is why Relax and Ride Bikes is the #1 Choice of Bike Fanatics!
Lowest Price Guarantee
We strive to offer the lowest prices online for our customers. If you find another online store that offers a lower price than ours within one month of your purchase, let us know and we will refund your original payment for the difference.
To request your partial refund, e-mail us a link to the same product you bought from us on our competitor's website within one month from the date of your order.
Exceptions:
The Price Match Guarantee includes the item price, it excludes any shipping cost & sales tax.
Promotions which bring the price lower than the MAP (Minimum Advertised Price) Pricing as set forth by the manufacturer.
The website cannot be an auction site
The competitor must be an Authorized Retailer for the product.
To receive a price match refund, please e-mail us at april@relaxandridebikes.com, and send us the following details:
Your full name
Your order #
Your e-mail address
Your phone #
Name of the product you purchased
Competitor's Price
Web site address (URL) of the competitor's product offering
Lowest Price Guarantee Terms & Conditions
Competitor's product must be the identical model from an authorized U.S. dealer. Specifically, the product must have the same U.S. manufacturer's warranty, model number, contain the same components, and must be brand new (not refurbished). Competitor's product must be in stock. We reserve the right to verify another online company's product availability and price before issuing a price match or refund. We do not price-match on products listed on auction websites or member-only websites (such as sites that require a periodic membership fee). The Lowest Price Guarantee does not apply to obvious pricing errors or clearance or close-out items (since they are one-of-a-kind and priced according to their condition). The Lowest Price Guarantee applies to the cost of the item to purchase minus any charges to deliver the item, including shipping, processing, handling, taxes, and other applicable fees. The Lowest Price Guarantee applies to products offered online via e-commerce websites. It does not apply to private party sales or products sold at "brick-and-mortar" stores.
---
QUESTIONS & ANSWERS
Have a Question?
Be the first to ask a question about this.
Ask a Question
---
We Also Recommend